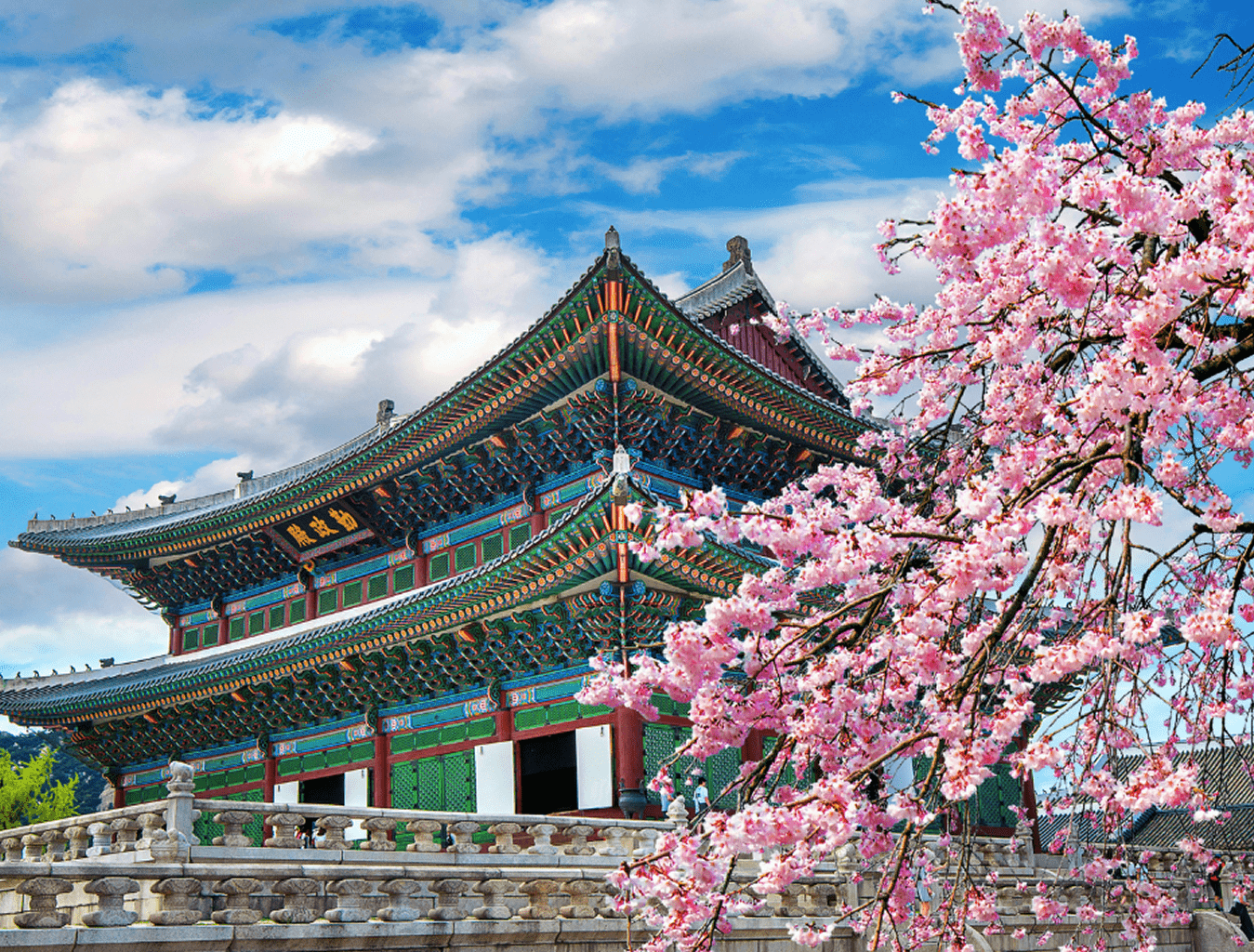 Study In South Korea
South Korea, an East Asian nation on the southern half of the Korean Peninsula, shares one of the world's most heavily militarized borders with Northern Korea. It's equally known for its green; hilly country side dotted with cherry trees and centuries- Old Buddhist temples, plus its coastal fishing villages, sub-tropical islands and high-tech cities such as Seoul, the capital. It is the nation with biggest tech giants like Samsung.
Studying abroad is a great experience, especially if you're interested in a foreign culture and language. And South Korea is an awesome destination for anyone looking to expand their horizons. Studying in South Korea opens the doors for you. It's opportunity to pursue higher education in the nation with leading economy. Students are attracting more towards South Korea because of high-quality education in South Korea. There are thousands of courses, over with 105,000  of a student who is getting high-quality education. The most popular universities in South Korea are Woosong University, Kyungdong University, SolBridge, Ajou University , UniversitrySeouUniversitry, etc.
Currently, there are more than 370 official South Korean higher education providers, including 179 private universities and 43 national universities.
Capital:  Seoul
President: Park Geun-Hye 
Currency: South Korea Won
Population: 50.22 million (2013 )
Why Study in South Korea?
South Korea is, in many ways, similar to other destinations around Asia; it features advanced, modern cities and large populations that are always on the go. It is highly influenced by American culture but still, manages to hold onto its proud history and culture. A study in South Korea is a once in a life time opportunity, whether exploring South Korea's large and bustling capital city, Seoul, students are also likely to enjoy South Korea's rich and dynamic culture.
International Student Affairs Offices
Cultural exchange
High-Quality research
Innovative, creative and independent culture
Impressive technology and research resources
Affordable cost of living
Provide Quality education
Employment opportunities
Rich in cultural and dynamic life
The universities are recognized world wide
Support for careers
A suitable , multicultural and harmonious society
Choosing a university:
With one of the most advanced economies on the Asian continent and a national culture. South Korea is a continuously rising country in the global arena. Making the decision to study abroad in South Korea will a be a beginning of a grand world adventure in which you explore a language, culture, and history that has ruled for thousands of years, and continues to innovate at the head of the curve. While choosing the university you must know the following things:
Find the location on net and investigate about it
Investigate about the courses you are willing to study
Search on net for the top universities which meet your demand
Academic importance
Know about the financial system and living cost
Scholarship program:
If you are willing to attend university in South Korea, you probably concerned how much it is going to cost you to attend. South Korea offers a lot of money to the international students. There are varieties of sources you can obtain your scholarship as well. About 345 scholarships are offered under Korean Government scholarship. These scholarships are aiming at developing global leaders and to strengthen the Korea friendly network world widely. Wesleyan Freeman Asian scholarship program, George Washington University, Westminster Theological seminary, University of Alber ta,Global Korea scholarship (GKS) Kyundong University Scholarship (KDUS) etc.
Working in South Korea:
Working in South Korea will not only kick-start your international career, it will also get you in touch with a unique Asian culture. Expats are increasingly drawn to South Korea, which is home to many international companies. The country is striving to become a major business hub within East Asia.
Student can work 20 hrs per week while school in session, and full time during school break
Literally the pay is not high and it will depend on age and experience
Find out receiving permission to work
The average salaries for expats differ greatly depending on which company you decide to work for
Finances:
Bank Balance
Finance proof: Only $15,000 USD balance and 6 month Statement
Living Expenses:
The majority of South Korea is relatively inexpensive to live in, though prices in Seoul can be substantially higher than in other regions.
Most universities will offer affordable catering on their campuses and a meal from these facilities can cost as little as ₩2,600 ($2.50). In general, South Korea's native cuisine will cost less than food from western restaurant franchises, but either should be affordable. The South Korean government estimates the cost of food at roughly ₩300,000 ($300) per month for students using university catering.
Access to South Korea's world-leading high-speed internet services will usually cost around ₩420,000 ($30) per month.
Population
50.22 million (2013 )
South Korea student visa:
Following are the requirements for student visas:
Counselor can advise you a suitable course
Requirement of medical report
Receiving and accepting a letter of offer
Up to 100% Scholarships available
   100% English Language Instructions
100% Refund Policy: No application fees
Finance proof: Only $15,000 USD balance
80% International Faculty & Students
Language Classes – Korean & Chinese
Double Degree programs (USA, Europe, Japan…etc.)
No entrance exams (Only TOEFL / IELTS required
Student visa requirements:
One of the first things you'll need to do after deciding to study abroad in Korea is to obtain a Korean student visa. Use this article as a guide to help you through the application process.
The first thing you will need in order to apply for a Korean student visa is to be accepted into a regular educational program as a regular student or as a language student. You will then need to submit the necessary documents along with your proof of acceptance. Because periods of stay vary depending on the program, you will need to check related regulations concerning each one.
Application for a Visa should be initiated by contacting a South Korean embassy in your home country. You will normally be required to submit the following documents:
A Passport, valid for the duration of your intended stay in South Korea.
A completed visa application form.
A processing fee, equivalent to $50 for single-entry or $80 for a multiple-entry visa.
Confirmation of admission to your programmer of study, provided by your institution and recognizing your aptitude and financial capability.
Certification of your educational record and qualifications.
Financial verification, demonstrating that you have resources equivalent to at least $12,000 ($13,000 for residency in Seoul) available for your studies. This can take the form of a current bank balance and / or confirmation of funding or other financial support.
In some cases, you may be able to apply for a Certificate for Confirmation of Visa Issuance to simplify and speed up your application process. This can be submitted in place of documents confirming admission, educational record, and financial verification, but requires sponsorship by someone within South Korea. Certificates are issued by Korean immigration offices and are valid for three months.